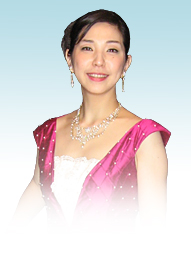 Born: Hikone-city, Shiga-prefecture, Japan.

The Japanese soprano, Shigeyo Tajima started to study singing at Tokyo Univershity of the Arts, Department of Vocal Music and advanced to Special Graduate Courses. She won the prise of Toshi Matsuda.

Shigeyo Tajima continued to study at "Hochschule für Musik und Theater München" in Germany from 1992. While studying in Munich, she won the 2nd prize of Pfitzner Competition, the 4th prize of ARD Music Competition and the 2nd prise of Internationaler Lied-Wettbewerb der Japanischen Schubert-Gesellschaft.

Shigeyo Tajima is a member of Nikikai and a member of the tokyo chamber opera theatre.

Shigeyo Tajima started to study with Hiroko Kimura, Ayako Kurokawa, Sadako Sasaki, Tatara Michio, Fumieko Yasui, Hidetoshi Muraoka. And she continued to study with Hanno Blaschke, Hanns-Martin Schneidt, Helmut Deutsch at "Hochschule für Musik und Theater München".

Shigeyo Tajima has performed as a soloist with a broad repertory ranging from Classical to "Neue Musik", Christian music and German Songs. She recently (2004) sang Richard Georg Strauss "Intermezzo" at New National Theatre in Tokyo.